Posted on June 18, 2014 by The Promenade
Divino Gelato Cafe, one of the newest additions to the Promenade at Bonita Bay, was recently featured as a Business Spotlight in the Coastal Life section of the News-Press, the daily newspaper of Fort Myers.
Divino Gelato opened in May 2014 and customers have a rotating selection of more than 200 gelatos. Franchise owners Joe and Lori Lester share their love of gelato and want to expose their customers to the creamy Italian treat.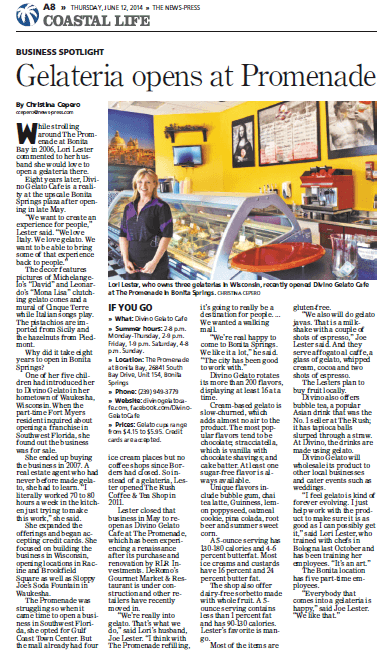 The Promenade at Bonita Bay is home to Divino Gelato Cafe, along with a variety of specialty shops and restaurants. Keep up with the latest news about our shops and restaurants by following us on Facebook and Twitter!
Tags: Bonita Bay Springs, dining, Food, Local business, news, Promenade Restaurants, Promenade store

Categorized in: Dining