Posted on November 19, 2018 by The Promenade
Promenade at Bonita Bay is about to transform the shopping-dining destination into a holiday season venue for the 2018 Festival of Lights. Southwest Floridians and visitors of all ages can experience this annual event on Friday, November 30th, from 5 to 8 p.m., in The Center Court of the Promenade — 26795 South Bay Drive in Bonita Springs.
The essence of the Festival of Lights is 'Operation Santa—' the Promenade's coined partnership with the Children's Network of Southwest Florida, LLC — a call-to-action for attendees to bring a new, unwrapped toy in exchange for complimentary pictures with Santa. The partners will donate all collected toys to abused and neglected children in Lee, Collier, Charlotte, Glades and Hendry countries via the Children's Network of Southwest Florida.
The Festival of Lights also includes:
Tree lighting in The Center Court
Holiday refreshments in The Center Court
Live music at The Center Bar
Kids craft area
Live dance demonstration by Enchanted Ballroom of Bonita Springs
Food and drink specials for purchase at The Center Bar
Over 25 unique, all-tastes shopping and dining items for purchase throughout the Promenade
For a list of other days on which you can drop off new, unwrapped toys for Operation Santa, as well as more information on the Festival of Lights, call the Promenade at (239) 949-1573. For a complete Children's Network of Southwest Florida wish list and other ways to donate to the child welfare cause, visit ChildNetSWFL.org.
Additionally, starting at 4 p.m., two Promenade businesses will host holiday events of their own. Little Paris Decoration (Suite 104) invites families and friends to its Painting Father Christmas Workshop. For $10, they can paint a Santa Claus, as well as enjoy small bites and beverages. Those interested should contact Felicia at (239) 450-8232 or littleparisdecor@gmail.com. Meanwhile, Creative Pottery (Suite 119) is starting a new holiday tradition with ceramic ornament painting for $10 — including a half-off studio fee. For more information, call the Bonita Springs location at (239) 405-8446.
"We hope that you will start the holiday season off right by helping us help others, as well as taking in the sights and sounds of this most magical time of year — Southwest Florida style," said Nicole Panio, Marketing & Public Relations Coordinator for the Promenade.
About Promenade at Bonita Bay
Located in Bonita Springs, right outside the community of Bonita Bay, the Promenade is home to some of the finest retail stores, unique boutiques, a high-end salon, popular restaurants and entertainment hubs in Southwest Florida. Promenade at Bonita Bay is open Monday through Saturday, 10 a.m. to 8 p.m., and Sunday, noon to 5 p.m. The open-air shopping center, managed by Royal Shell Property Management, is located at 26795 South Bay Drive. Call (239) 949-1573. Online at PromenadeShops.com.
About Children's Network of Southwest Florida, LLC
The Children's Network of Southwest Florida is a 14.5-year-old private, nonprofit lead agency that administers the child welfare system in Lee, Collier, Charlotte, Glades and Hendry counties. Responsible for over 2,300 abused and neglected youth, the organization works with the community to preserve and protect families, as well as delivers local care through subcontracts with 50 social service agencies. The Children's Network of Southwest Florida's Diversion Program also serves about 125 at-risk community children per month. Call (239) 226-1524. Online at ChildNetSWFL.org.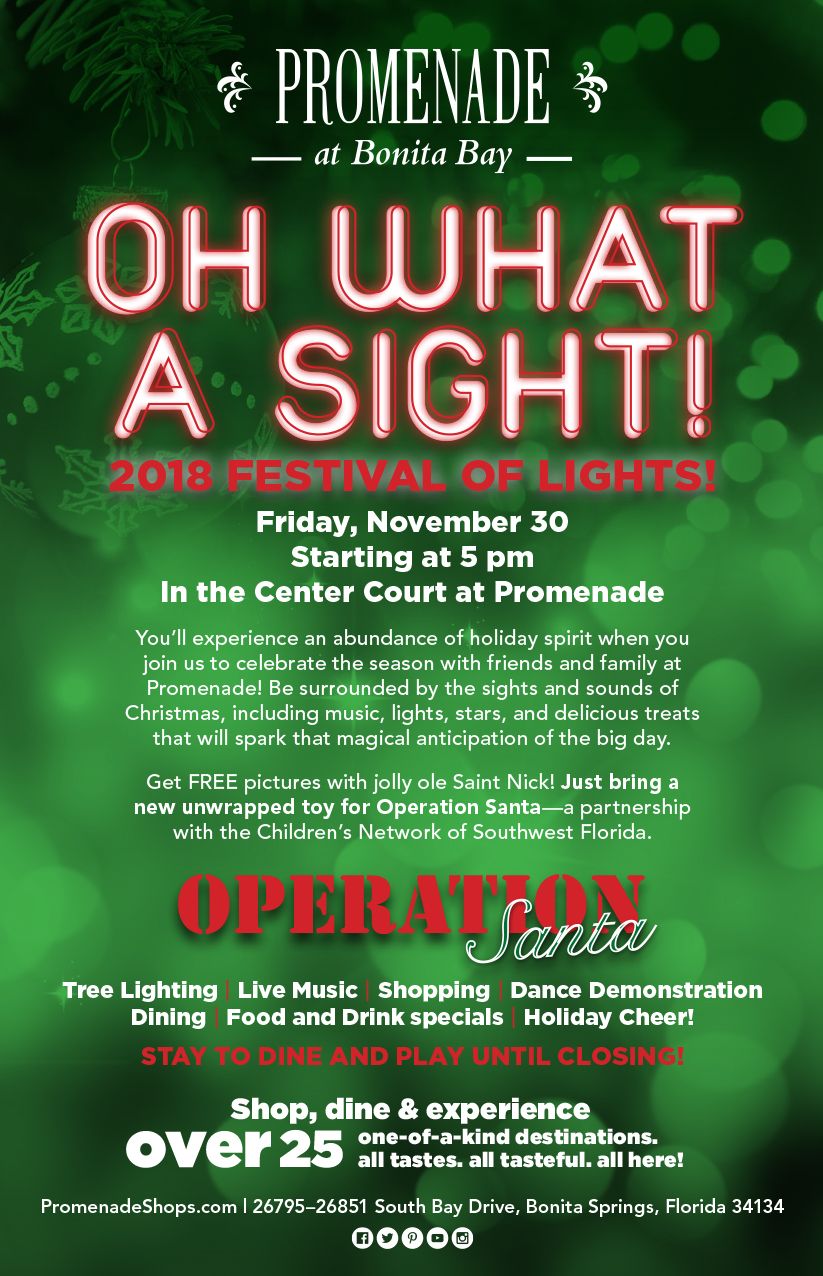 Categorized in: News Release