Posted on September 15, 2015 by The Promenade
BONITA SPRINGS, Fla. (Sept. 15, 2015) – The Promenade at Bonita Bay announces the opening of Blanc du Nil, an international boutique offering men's, women's and children's clothing and apparel.  Blanc du Nil is known as "The All White Clothing Store," because all the clothing is white and 100 percent cotton.
"We are excited to open our store here at The Promenade," said Gilles de Sola, owner of Blanc du Nil, which has more than 200 stores worldwide. 
Blanc du Nil is open 10 a.m. to 5 p.m. Monday through Saturday, and is closed on Sundays during the month of September. For information about the new store now open in unit 156, call 239-301-0452. The Promenade is located at 26795 – 26851 South Bay Drive in Bonita Springs.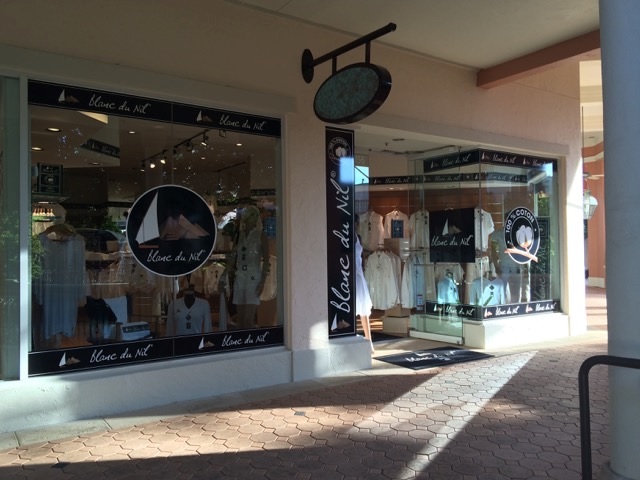 Media Contact
Niki Panio, Kwikturn Media, nicole.panio@kwikturnmedia.com.
855-KWIK-TURN (855-594-5887).
About The Promenade at Bonita Bay
The Promenade at Bonita Bay is an open-air retail and class-A office center enhanced by a beautiful tropical landscape, gazebos, water features and sheltered walkways which complement its spectacular Mediterranean-style architecture. Conveniently located on U.S. 41 and South Bay Drive in Bonita Springs, current Promenade tenants include AnticaMurrina; Children's Couture; Evelyn & Arthur; International Jewelers; Jami's Young Contemporary; John Craig Clothier; Kay Casperson Lifestyle Spa & Boutique; Kay's On The Beach; Marc Joseph NY; Signatures; Kelly Chase Couture Bridal Salon; Molino's Ristorante; Robert of Philadelphia; The Center Bar; Local Roots Farmer's Market (October – April); DeRomo's Gourmet Market & Restaurant; DeRomo's Gift Basket Center & Catering; Divino Gelato; Enchanted Ballroom; Tara Grinna Swimwear; Well Read Boutique; To The Moon; and Roy's Restaurant.
The Promenade at Bonita Bay hosts year-round special events including live music, fashion shows, festivals, and fundraisers. The Promenade at Bonita Bay is owned by national real estate company R.L.R. Investments, L.L.C. For more information, visit www.PromenadeShops.com.
###
Categorized in: News Release