Posted on April 5, 2017 by The Promenade
Monday, April 17th from 6 p.m to 9 p.m.
In just one evening you will complete an original work of art while enjoying the evening with friends, music and your favorite beverages.
You will be provided with everything you need to complete the "Flip Flop" print.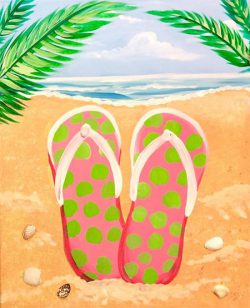 Reserve your space for a memorable experience.
You will take home the best memory of all, a work of art created by you!
Click here to register.
Download pdf
BRING YOUR SEASHELLS! (Just a few small ones:))
We'll have some too! And we'll bring the glue!
Categorized in: News Release