Posted on September 23, 2015 by The Promenade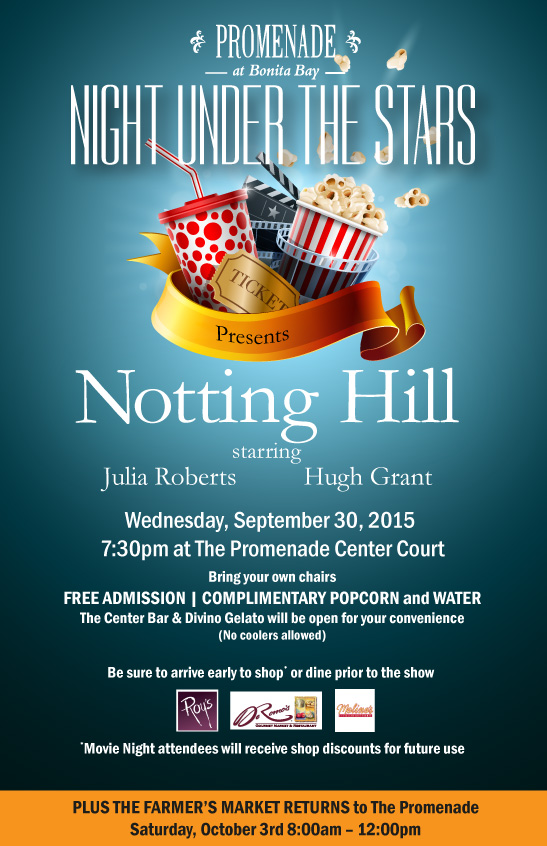 The Promenade at Bonita Bay Hosts "Night under the Stars" Movie Event
BONITA SPRINGS, Fla. (Sept. 22, 2015) – The Promenade at Bonita Bay, located at 26795 – 26851 South Bay Drive in Bonita Springs,is pleased to host an outdoor movie night on Wednesday, September 30th at 7:30 p.m. The movie will begin shortly after sunset. The featured movie,"Notting Hill" starring Julia Roberts and Hugh Grant, will be shown on a 25 ft. outdoor screen at The Promenade's Center Court.
Guests are encouraged to arrive at The Promenade early to shop and enjoy a delicious dinner before the movie at one of the shopping center's fine dining establishments likeDeRomo's, Roy's, and Molino's. Shoppers will enjoy special discounts by The Promenade's retailers during movie night that can be utilized September 30th – October 4th, 2015.
The movie night event on September 30that The Promenade is free to the public and will include complimentary popcorn and bottled water for moviegoers. Beverage service will also be available at The Center Bar, as well as gelato from Divino Gelato.Outside coolers are prohibited. However, guests are encouraged to bring their own chairs.
"Night under the Stars" kicks off a busy week at The Promenade including live entertainment at The Center Bar on Thursday evening starting at 6 p.m. and Friday & Saturday nights starting at 7 p.m. In addition, the popular Local Roots Farmers Market returns to The Promenade on Saturday, October 3rd from 8 a.m. to 12 p.m.

Media Contact
Niki Panio, Kwikturn Media, nicole.panio@kwikturnmedia.com.
855-KWIK-TURN (855-594-5887).
About The Promenade at Bonita Bay
The Promenade at Bonita Bay is an open-air retail and class-A office center enhanced by a beautiful tropical landscape, gazebos, water features and sheltered walkways which complement its spectacular Mediterranean-style architecture. Conveniently located on U.S. 41 and South Bay Drive in Bonita Springs, current Promenade tenants include AnticaMurrina; Children's Couture; Evelyn & Arthur; International Jewelers; Jami's Young Contemporary; John Craig Clothier; Kay Casperson Lifestyle Spa & Boutique; Kay's On The Beach; Marc Joseph NY; Signatures; Kelly Chase Couture Bridal Salon; Molino's Ristorante; Robert of Philadelphia; The Center Bar; Local Roots Farmer's Market (October – April); DeRomo's Gourmet Market & Restaurant; DeRomo's Gift Basket Center & Catering; Divino Gelato; Enchanted Ballroom; Tara Grinna Swimwear; Well Read Boutique; To The Moon; and Roy's Restaurant.
The Promenade at Bonita Bay hosts year-round special events including live music, fashion shows, festivals, and fundraisers. The Promenade at Bonita Bay is owned by national real estate company R.L.R. Investments, L.L.C. For more information, visit www.PromenadeShops.com.
Categorized in: Events, News Release