Posted on October 20, 2014 by The Promenade
Spend a day at the spa in "Bootique Spooktacular" style at Kay Casperson Lifestyle Spa and Boutique on Halloween, Oct. 31.
Customers will learn skincare tips, makeup tricks and enjoy yummy treats too! It's a spooky day of fun mixed with relaxation for sure. Anyone arriving in a Halloween costume or outfit will receive $10 in Beauty Bucks which can be used for any spa and salon service or purchases from the Lifestyle Boutique.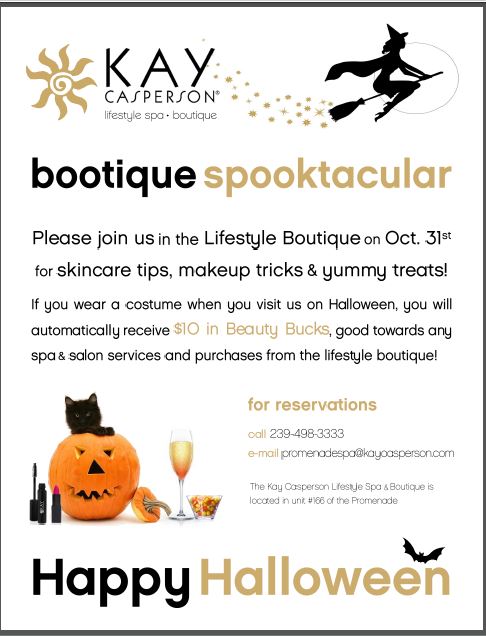 Make reservations for a day of "Bootique Spooktacular" by calling (239) 498-3333 or by email at promenadespa@kaycasperson.com. Boutique browsers will also find a spooky trick along with a fun "boo"!
The Kay Casperson Lifestyle Spa & Boutique is located in Suite 166 of The Promenade at Bonita Bay. The spa and boutique features signature services and products to rejuvenate and transform from the inside out!
Connect with Kay Casperson Lifestyle Spa & Boutique on Facebook and Twitter.
Tags: boutique, Event, Kay Casperson Lifestyle Spa & Boutique, Promenade store, skincare, spa

Categorized in: Events