Posted on March 20, 2023 by nicole.panio
Evelyn & Arthur host Lisette Day
Tuesday, March 21 from 10 a.m. to 5 p.m.
Take 10% off all regular priced Lisette. In-store and online. No adjustments to prior purchases. May not be combined with any other offer. ** Free gift with purchase while supplies last. *** Two drawing winners will be selected throughout the day. March 21, 2023 only.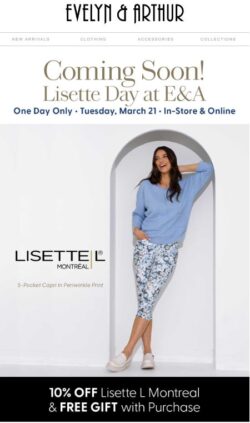 Categorized in: Sales & Specials