Posted on July 7, 2017 by The Promenade
"Rumbrear". Definition: A Spanish verb meaning to go to parties, having fun and dancing. Sound familiar? This is how the dance style, rumba, got it's name. Today rumba is a fun, sassy and romantic latin-style of ballroom dance that fits nicely with most modern types of music. The Rumba is infamous for it's sassy, smooth, and sensual demeanor.
This is a progression class so ALL dance levels are encouraged to join! You will learn fun and challenging patterns, partner work, and how to bring the infamous Rumba characteristics to life that every dancer craves. After this class you will have the confidence to Rumba all night on the dance floor with elegance, sensuality, and style!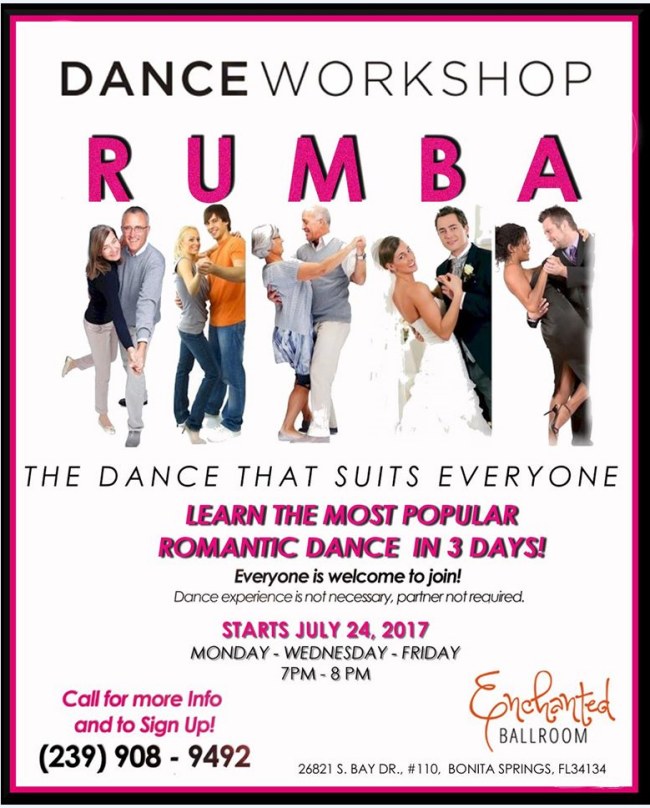 (239) 908 – 9492
EXPERIENCE NOT NECESSARY/ALL LEVELS ENCOURAGED
PARTNER NOT NEEDED
$95/Single
$150/Couple
Fully Inclusive of entire Workshop
 
Categorized in: News Release