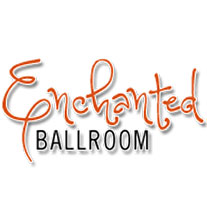 Enchanted Ballroom is a Professional Dance Studio tailored to fit everyone from beginners to advanced dancers. We specialize in American Smooth and Rhythm as well as International Standard and Latin dancing including Argentine Tango. We also offer instruction of various dance styles such as Ballet, Contemporary and Modern dances, Line Dance, Burlesque and Freestyle Dance Techniques.
Enchanted Ballroom offers Private Lessons, Group Classes, Workshops, Dance Parties, Wedding Choreography and Competitive Dancer Packages.
Private Lessons include customized dance syllabus catered to your specific dance goals. Singles and Couples are always welcome!
Enchanted Ballroom Group Classes
Tuesdays at 6 p.m. – Rhythm: This class covers 1 of the 3 rhythm dance styles each week. Dances include: East Coast Swing, Rumba and Cha Cha Cha
Thursdays at 6 p.m. – Styling: This class covers how to bring out the character of different dance styles and incorporating your own unique personality using not only dance steps, but such as arms and hands.
Fridays at 6 p.m. – Nightclub Latin: Kick off your weekend! This class covers perfect for learning social nightclub dances including: Salsa, Mambo, Merengue and Bachata.
All group classes are open to the public and drop – in welcome.
No experience needed, dance partner not necessary.
$10/person- Call for info (239) 908 – 9492
Social Dance Practice Parties – Every third Thursday
All parties begin 7PM: 6/15, 7/21, 8/18, 9/21, 10/19, 11/16, and 12/21. Dance parties are always open to the public. We invite everyone to come enjoy a very fun atmosphere, music & dancing and an energetic social mixer!
Dance experience not needed.
Wine & Snacks served, RSVP not required.
$10/person- Call for info (239) 908 – 9492
Contact
Suite: 110

PH: 239-908-9492
Hours:

Monday – Friday: 11a.m. – 7p.m.

Saturday: 10a.m. – 1p.m. (Appointments by request)