Posted on October 5, 2016 by The Promenade
PRESS RELEASE
FOR IMMEDIATE RELEASE
DeRomo's Gourmet Market & Restaurant Celebrates 2nd Anniversary with Italian Feast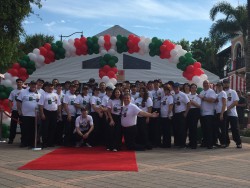 BONITA SPRINGS, Florida (October 4, 2016) – Get ready for an Italian Feast like no other as DeRomo's Gourmet Market & Restaurant goes all out in celebration of its second anniversary in business at Promenade at Bonita Bay. The Italian Feast runs 3 to 8 p.m. on Saturday, October 15.
Enjoy the amazing Italian cuisine we're known for along with an Italian beer and wine bar. It's our own Little Italy right here in Southwest Florida! Cost is only $20 for adults and $10 for children 10 and under for the all-you-can-eat feast. Alcoholic beverages are not included in that price. Purchase your wristbands in advance at DeRomo's Gourmet Market.
Also on tap for the celebration will be live music from area bands, a Ferrari car show, children's bounce house, raffles and giveaways. DeRomo's Banquet Room will be available for tours with a special offer for booking your holiday party by 10/21/16. Free parking and shuttles will be available across the street from DeRomo's in the Rural King parking lot.
With October being Italian Heritage Month, DeRomo's Italian Feast is the perfect way to celebrate. "We invite you to our Italian Feast celebration in the sophisticated, Old World setting of The Promenade," said Francis J. Cuomo, founder and owner of DeRomo's.
About DeRomo's:
Located in the Promenade at Bonita Bay, DeRomo's Gourmet Market and Restaurant is the ancho
r tenant and occupies nearly 18,000 square feet of space at 26811 South Bay Drive, Suite 140 & 148 in Bonita Springs, Florida. DeRomo's features a premier gourmet market and restaurant selling and serving fresh meats and seafood. The market offers a full deli, pizza, prepared foods, fresh produce, bakery, coffee bar, wine, cheeses and gift baskets. The restaurant boasts an elegant outdoor bar and extensive seating area. Full-service catering and a brand new Banquet Room are also available.
DeRomo's also makes its own made-from-scratch pasta at its Pastaria, a state-of-the-art pasta production shop, located in Suite 132 at The Promenade. For information, call 239-325-3583 or visit www.deromos.com.

Media Contact: RLR Investments, LLC – Nicole Panio
239-691-6744 • nicole.panio@rlrllc.com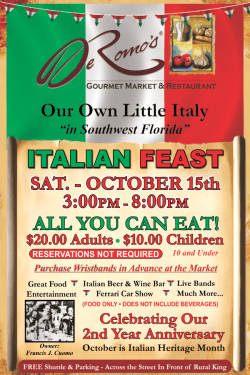 Categorized in: News Release