Posted on March 11, 2015 by The Promenade
Mark you calendar and join the Bonita Springs Area Chamber of Commerce at The Promenade on Thursday, March 12, 2015 for the largest FREE regional business expo of the year. The event will feature over 80 participating vendors showcasing their products and services. Engage with community members and local businesses while increasing connections with vendors, clients, service-providers, and employers in a high-energy environment.
The first 500 guests will receive a free tote bag!
Download the Expo map.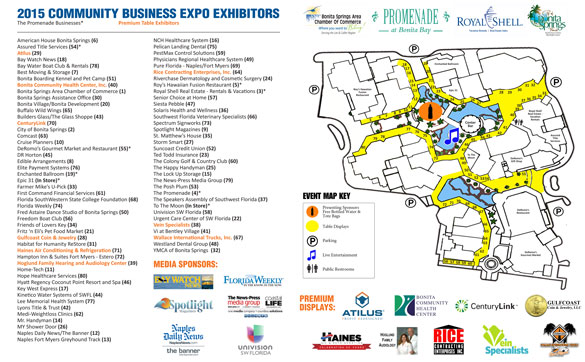 The Community Business Expo is scheduled from 3-7 p.m. Everyone is invited to attend the Chamber's largest networking event of the year and also enjoy live music at the Center Bar, visit the shops and restaurants at The Promenade, and engage with our professional community.
The 2015 Community Business Expo is also hosted by Royal Shell Vacation Rentals & Real Estate Sales and the City of Bonita Springs.

Tags: Bonita Springs Area Chamber of Commerce, Local business, promenade events

Categorized in: Events