Posted on September 26, 2017 by The Promenade
The fall season has arrived on the calendar! However, the warm temperatures and sunny days of Southwest Florida help prolong the fun of summer and give way to very mild winters to enjoy the area.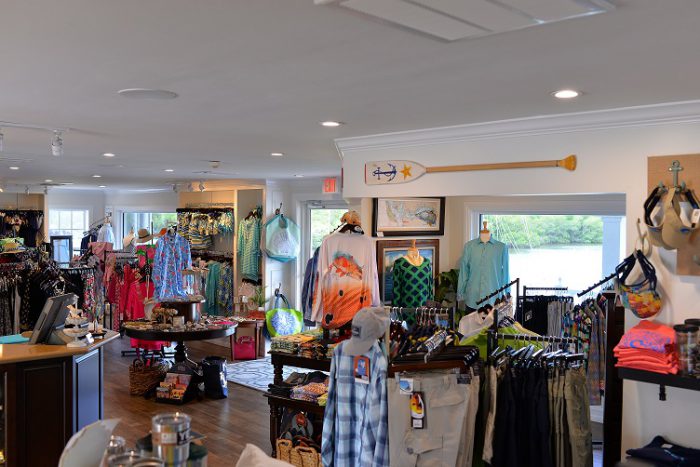 So as we embrace fall, the apparel of the season becomes the focus for many looking to update wardrobes and add a few stylish touches with accessories. We have put a twist on the traditional fall fashion update with a visit to Coastal Outfitters. The boutique specializing in performance outdoor gear is located here at the Promenade at Bonita Bay.
Here is What's in Store for Fall
Marla Lujan, manager and buyer of Coastal Outfitters, recently attended the iCast International Convention for Allied Sportfishing Trades. A reoccurring product theme she points out from the tradeshow was gear providing sun protection.
Lujan highlights that brands such as Simms, HUK, Pelagic, and Hook & Tackle provide not only sun protection; but moisture wicking, stain resistance, and adequate ventilation. Shoppers can find great performance by these designers at Coastal Outfitters to enjoy fall activities.
"September, October, and November are the prime fall months for local fishing," Lujan said. "Protect your skin from damaging rays with our complete line of performance wear.  A must-have item this season is the sun shirt."
Coastal Outfitters stocks an excellent inventory of protective shirts including button-down, long-sleeved, short-sleeved, and some styles include hoods!  Lujan said with a diverse customer base, Coastal Outfitters strives to supply a full range of sizes up to 3X-Large. All garments are easy to care for and are machine washable.
Ready to enhance your fall wardrobe? Coastal Outfitters has a full line of tops, shorts, pants, gloves, hats, neck gaiters, performance eyewear, and boat shoes. The boutique even carries HUK performance undergarments! It's easy to update your wardrobe with a few key pieces.
We have a full line of tops.
Protective eye wear is a must in the sun.
Mix and match designs.
Pair this hat with a protective shirt.
Active Fall Wardrobes Start at Promenade
Excite your wardrobe at Coastal Outfitters by introducing vivid colors, earth tones, and varied prints and patterns to mix and match for your outdoor gear. In addition to the Coastal Outfitters location here at Promenade at Bonita Bay, the boutique also has stores at Port Sanibel Marina in Fort Myers and on Captiva Island. Check out our other Promenade retailers to update your fall wardrobe.
Let us know what you will add to your wardrobe this fall. Connect with us via Facebook, Twitter, Pinterest, YouTube, and Instagram and showcase your fall style. Also make sure to sign up for our weekly Promenade newsletter to find out about sales and other specials from our great merchants.
Tags: Apparel, clothing, Coastal Outfitters, designer fashion, Promenade store, The Promenade

Categorized in: Sales & Specials